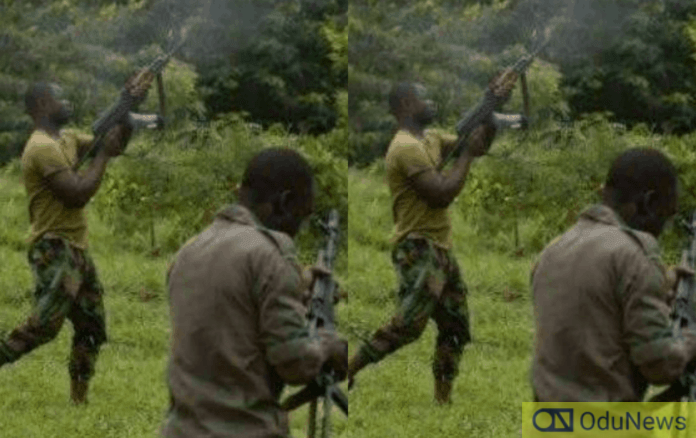 The challenge of armed banditry across northern Nigeria as feared had seemingly spiraled out of control, and, reached some communities in Southwest Nigeria. This ugly trend has since got everyone across the divide talking, the alarming rate of banditry has evolved from a minor crime to a national threat. Political actors who maintain a passive stance are beginning to retrace their steps and speaking up.
When bandits, mostly of Fulani extraction were unleashing mayhem on farming communities in North Central, political actors across the Northwest were quick to dismiss what they call a smear campaign against historically peaceful nomads. For centuries, the Fulani nomads were ofcourse a peaceful set of law-abiding herdsmen grazing across the plains, and forest between North-South, and on the fringes of border communities.
The relationship between Farmer and Herder was historically an imperfect, but necessary union. The farmer invites the farmer with his cattle at the end of farming season to live temporarily on his farmland, ostensibly to produce manure from Cow dung. This practice what was defines Herder-farmer relationship for decades. Although, some form of altercation, or disagreement occurs periodically, but, such disputes are quickly resolved through peaceful means by leadership of both parties. Across the country, such was the kind of interaction between these subgroup. In the southwest, some Fulanis lived and consider their host, brothers, and speak fluent Yoruba, and imbibed some cultures. Same goes for communities in Southeast and the Benue valley.
At the turn of century, many factors, chiefly climate change and partisan politics redesign the relationship between these groups. Grazing reserve forest are fast receding in an alarming rate. Deforestation had drastically reduced the vastness of grazing land in most communities such that, both the farmers and herder struggle for the control of land. On the other hand porous borders control led to the infiltration of armed and deadly Fulani groups across the Sahel, and the entire West Africa region into the country. Security experts cited the death of Libyan leader, Muammar Gaddafi as one of the reason for proliferation of arms across the region. His death in 2011, open the floodgate for his ex fighters, or mercernaries mostly Chadians, Nigeriens and other Berbers or Chadic tribes across the Sahara desert.
At this point, influx of these armed groups should have sparked an interest from Nigeria's political actors. Government, and security operatives should at that point, put in place modalities to stem the impending danger. This had proven the ineffectiveness of intelligence gathering, in the country. The body responsible for National security and intelligence were busy harassing activists, ignoring the major threat, to national security.
President Buhari, a Fulani, was accused of not doing enough, or coming hard on the marauding bandits. In 2018, during a State visit to the US, President Trump, was reported to have shown immense interest in the conflict between Fulani herdsmen and farmers in North Central Nigeria. This was obviously because of distrust between Christians and Muslim communities in the region, with the former accusing the latter of a planned annihilation, or genocide of its people. Such allegations are baseless and unfounded, as, both sides recorded a number of casualties.
As political leaders, were locked in a blame game, the bandits were expanding their frontiers and finding refuge in the Northwest, they swiftly abandon grazing, and found a new trade, and easy access to quick cash — cattle rustling and kidnapping.
And at this point, there seems to be no going back as, they had obviously realized how lucrative the new trade is and, invite their kith and kin, from other areas. The political class had also found a willing tool, in advancing their political goal. Zamfara, Katsina, and Kaduna are states worst hit by the new wave of Fulani criminality, atrocities they commit is unimaginable. How can one wrap his head around the fact, famers had to pay their ways to access their farmlands and communities pay taxes to avoid being attacked? This goes to show how unserious government and other political leaders are in bringing to an the menace.
Motivated by the lucrative venture, the bandits extended their nefarous activities to the Southwest, which had sparked of a national debate. Gov.Akeredolu, and other Southwest pressure groups issued a quit or eviction order on the Fulani to leave their forest. Ondo, Oyo, and Ogun states had witnessed clashes in recent days between Fulani, militia groups and Government-backed Amotekun.
If political leaders of Northwest are clueless about ending security, their Southwest counterpart had shown them the way to go. You can't harbor your kinsman, if he turns out to be your killer.
Recent calls, especially by renowned Islamic scholar, Sheik Dr Ahmad Gumi, that amnesty be granted to fulani bandits had sparked off a national debate. While the singular effort of the cleric is laudable and commendable the call, or suggestions for amnesty is ridiculous. Agreed, not all conflicts can be resolved through the use of force, some require the use of deadly force to put to an end baseless and senseless conflict like banditry. The Niger-Delta amnesty was granted due to decades long suffering of fishing communities whom had had their livelihood destroyed by Oil spillage. Successive goverment had abandoned them, despite producing most of the resources running the country. Crazy as it may sound, Boko Haram had a cause, they are inspired by Religious revivalism or Jihad, an ideology mostly used to court and recruit fighters.
Banditry is sadly inspired by sheer
criminality and a quick access to cash. An average peaceful Fulani herder, guards his cattle jealously, and probably sells when he runs out of options. His nomadic life is such that portray humility and prudence. The most he makes from a single sale averages 200-300k. Criminal elements in their fold found out the easiest way of making triple the amount is via kidnaping. There are reports of victim paying as much as N50 million in ransom. Bizarrely, the bandits mostly get away with it, and lived off happily. Remarkably, this had emboldened them, and others joined the trade.
Ending Fulani banditry isn't a wishful thinking, granting them amnesty could be counterproductive.
For instance, in 2016, Gov. Aminu Masari of Katsina state, initiated an Amnesty Program for rampaging gunmen, initially, it was successful, months into the program, most bandits reneged and return to banditry. Obviously, they realized, or make far more money, from criminality than what Government offered. The urge for quick and easy cash became insatiable.
By June, 2020, the Governor vowed never to grant amnesty, or enter into any negotiations with the bandits, stating further his Government was betrayed twice by the gunmen.
Meanwhile, Zamfara Governor, Aminu Mutawalle, had insist on granting pardon to bandits, this could probably be his working formula in ending insurgency and insecurity in his state. But, the Golden rule is — You don't negotiate with Terrorist, especially, on their own terms.
Governor El-Rufai of Kaduna state, vehemently opposed the idea of granting amnesty, or negotiating with them. He vowed to promptly arrest and prosecute any terrorist demanding such. His stance showed just how resolute and pragmatic a leader should be. From experience, he knew any Fulani that "tasted" millions as a result of kidnappings, would most definitely return to banditry when he could not get more.
In the past, the Governor was quoted to have said he paid huge amounts to bandits, ostensibly to pacify them, to wade off any attack on Kaduna communities. That however did not deter them, as they ruthlessly continue to attack. Therefore, attempting to make peace, or grant Amnesty to bandits is an open invitation to more criminalities.
On his part, Gov. Ganduje, who years ago, routed bandits from the notorious Falgore Forest on the Tudun wada-Doguwa- Jos highway, had earlier in the week proposed a ban on open grazing, or movement of cattle.
Banditry across the country had become hugely contentious, and worrisome, and stoking flame of disunity, especially between the North and Southern part of the country.
Bauchi State Governor, Sen Bala Mohammed, opined that Forests across the country does not fall under the purview of state governments, and Fulanis had the right to carry arms! He further blame his Benue counterpart for stereotype and aggression against Fulanis. He remarked, more awkwardly on how his state played host to non-Fulani farmers across the country. While it is an incontestable fact, H.E needs to be reminded that, such non Fulani dwellers in his state has so far not been fingered in any form of criminality or kidnappings. Such inciteful and divisive statement should not be made by a State Executive.
At the moment, we have on our hand, a national calamity. Blame-game by political actors would intrinsically aggravate, rather than quell the situation.
It is what it is, if a certain group or individual feels the Fulanis are unjustly vilified or maligned, he should boldly do the needful by mitigating the situation. At least, the courageous effort of Shiek Dr Ahmad Gumi is not lost on us. Leadership of Miyetti Allah must as a matter of expediency fish out the criminal element in its fold, and such efforts must be relentlessly sustained.
Security experts, community leaders and relevant stakeholders must put aside sentiment and work to end the raging inferno before it consume us all. There are intelligence report of collaboration between Bandits, Boko Haram and other terror groups across West Africa. Again, owing to the numerous ungoverned spaces or territories across the country, these terror groups had unhindered access to training fields, and turned them into camps or fortresses. Government must take effective control of its territories.
The danger of allowing any form of insurgency thrive for too long is, many splinter, or new groups would emerge, probably inspired or motivated by the earliest one. Also, granting amnesty might spur others with zero ideology or cause to emerge and engage Government, hoping at the end of the day, amnesty or pardon might be offered.
The time to put aside kinship sentiment and partisanship is now. We all must identify, and, understand, the monster before us is threateningly close, and time is ticking. Either we tame it, or get devoured.

Abdullahi D Mohammed is with the Department of Political Science and International Studies at the Ahmadu Bello University-Zaria.
He writes from Kano
abdullahkidnyce@gmail.com
Submit press release, news tips to us: tips@odunews.com | Follow us @ODUNewsNG