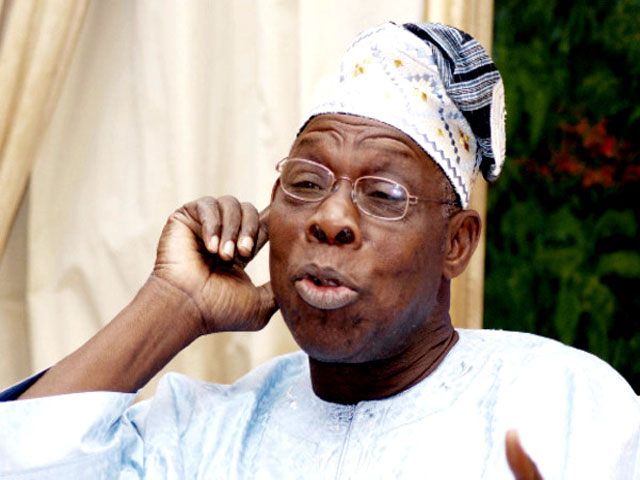 Is Obasanjo mad? Yes, you read that right! Was former President Olusegun Obasanjo 'mad' to have suggested that Nigeria needs a president who must be 'mad' about the country? This write-up is not one to ascertain if Obasanjo was really mad about Nigeria when he was President nor will it be about languishing in the country's many past woes. It will be to justify the need for a mad President to emerge in 2023.
This is neither a linguistic exposition to make obvious the semantic and pragmatic interpretations of the word "mad". Nigerians who are mad about the country's success will understand all the contextual meanings of mad in this piece. For clarity's sake, former President Obasanjo's "mad" has similar meanings to "passionate", "zealous", "fervid" and "impassioned". This is what Nigeria needs -a mad President!
The importance of 'being mad 'to a country's development cannot be overemphasized. No wonder the ingenuous Sierra Leonean poet, Syl Cheney Coker, was willing to be his country's mad man to get them out of its own economical and political travails. In his famed poem "Myopia", the poet said, "if madness we must have//let me be the hangman hanging myself//hanging them hanging the day//not by its neck not by its belly//but by its heart seen in its great betrayal!". Such passion is what we need in the country – a maddening passion to change the tides of things. This is not the change that comes to mind – the one 'they' promised and delivered EXCELLENTLY.
In Obasanjo's words: "Passion means being mad about Nigeria and having a touch of insanity". That is exactly what Nigeria needs moving forward. Loyalists of the present day government will swear heaven and earth that government officials are passionate about the country's growth. Maybe they are indeed passionate and if that is the case, then their passion is not enough. Nigeria now needs mad passion. If passion is paying mere lip service to the poor state of the educational sector, then they must dump that passion and begin to be mad!
Nigeria's challenges are enormous and they would not be tackled by mere words of mouth. The country needs this rhetoric to be backed by sufficient madness. One similar to Obasanjo's madness and the same as Cheney Coker's.  The kind of madness that exhumes total willingness to get things done -to get the country moving forward, to focus on the country's educational sector, to tackle insecurity with iron fists, to douse the religious and tribal tensions overwhelming the country. That is the madness that Nigeria seeks.
Obasanjo alluded to 'madness' to praise a presidential aspirant on the platform of the Peoples Democratic Party (PDP), Mohammed Hayatu-Deen, who visited the ex-President at his Otta residence in Abeokuta. Well, not many would agree with Obasanjo's praise of the presidential candidate. Although an age-long African proverb argues that What an old man sees sitting on the floor will not be seen by a young man even from a treetop, many Gen Zs will ask why the young man needs to climb a tree when a drone exists!
The political actors are all set for their performance. All of them are ready: the experienced thespians, the amateurs, the debutants, the jokers and the many apparent future political jobbers. All in all, let's hope – like we always do- that those who will emerge will display a never-seen-before madness to move the country forward.

Submit press release, news tips to us: tips@odunews.com | Follow us @ODUNewsNG